Business Development | Milwaukee | S.J. Janis Company
S.J. Janis Company Appoints Nick Sannes Director of Business Development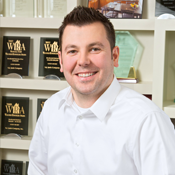 S.J. Janis Company, Inc., a full-service design/build company in Wauwatosa, Wis. serving southeastern Wisconsin since 1951, announced that Nick Sannes has joined the firm as Director of Business Development to further develop the company's business opportunities, such as the "Client for Life" and HOME programs.
Sannes' role will be to continue S.J. Janis's growth providing a high level of residential remodeling and design services to homeowners in the metro Milwaukee area. "I am excited to start a new challenge with the S.J. Janis Company and look forward to working with the team to further increase our market share," Sannes said. "I am fortunate to be joining such a highly regarded company that prides itself on developing strong relationships and providing an easy and enjoyable remodeling experience."
Check out our projects on Pinterest!
Let's Talk
Request a free consultation with our team today.
Award-Winning Design Projects
S.J. Janis Company's commitment to customer satisfaction and unmatched service quality has earned us 115 awards. We've been recognized by Houzz, Metropolitan Builders Association, NARI Wisconsin, and more. Browse our designs below to see why we're Wisconsin's preferred home remodeling partner. See All Projects