Benefits of a Curbless Shower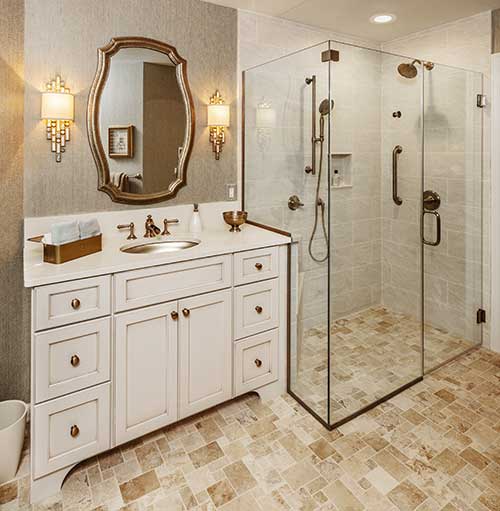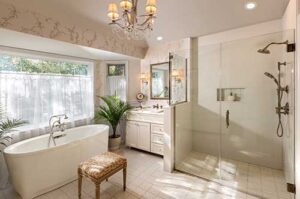 A tiled shower that has no threshold, or no "step" in, a curbless shower is flush with the bathroom floor. "It is becoming more popular and preferable to install a curbless shower not only for ease of access but also aesthetics," said Sarah Nelson, S.J. Janis Company designer. "Many homeowners like the idea that they can age in place and this type of renovation makes getting into a shower much easier. In addition to eliminating the potential obstacle of entering a tub and even a standard shower without having to step over a threshold, it also has a very clean, seamless look that many are drawn to."
Sarah explains that the benefits of the curbless shower include they are very accessible to all, design aesthetics are enhanced, and the shower is easier to keep clean since larger scale tile is typically used. "From a function standpoint, the longevity of a curbless shower and how it may improve quality of life and independence is positive," Sarah said. "Visually, it creates an appealing design feature and it can be customized to each individual."
It is important to keep in mind the potential for additional costs associated with this type of update and the extra labor that goes into installing a curbless shower. "Cost can vary depending on each home and situation, however, we estimate an additional $1,800-$2,300 plus the cost of the tiled shower itself," she said.
In order to create a curbless shower, the shower floor itself must be recessed into the subfloor at least three-quarters of an inch and up to two inches, depending on the type of installation and material being used. "There are various products on the market for creating a curbless shower," said Sarah. "We suggest using the Schluter system, which provides a variety of options based on the objectives of the homeowner."
Call S.J. Janis Company at (414) 259-0300 or e-mail us to discuss your bathroom renovation needs and schedule a consultation.
Let's Talk
Request a free consultation with our team today.
Award-Winning Design Projects
S.J. Janis Company's commitment to customer satisfaction and unmatched service quality has earned us 115 awards. We've been recognized by Houzz, Metropolitan Builders Association, NARI Wisconsin, and more. Browse our designs below to see why we're Wisconsin's preferred home remodeling partner. See All Projects