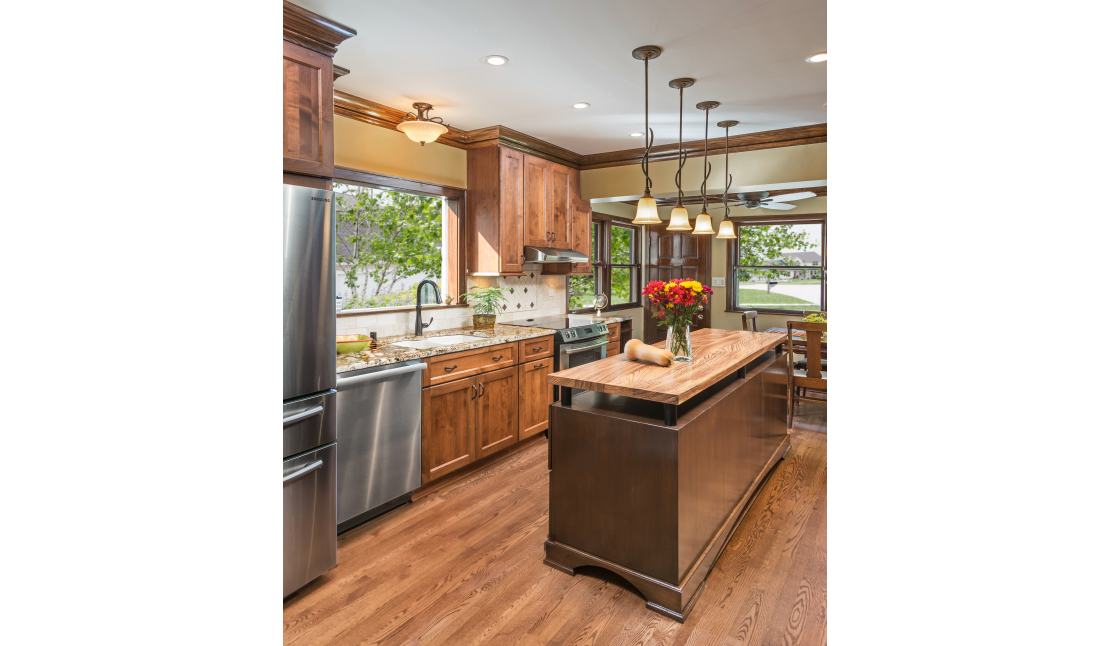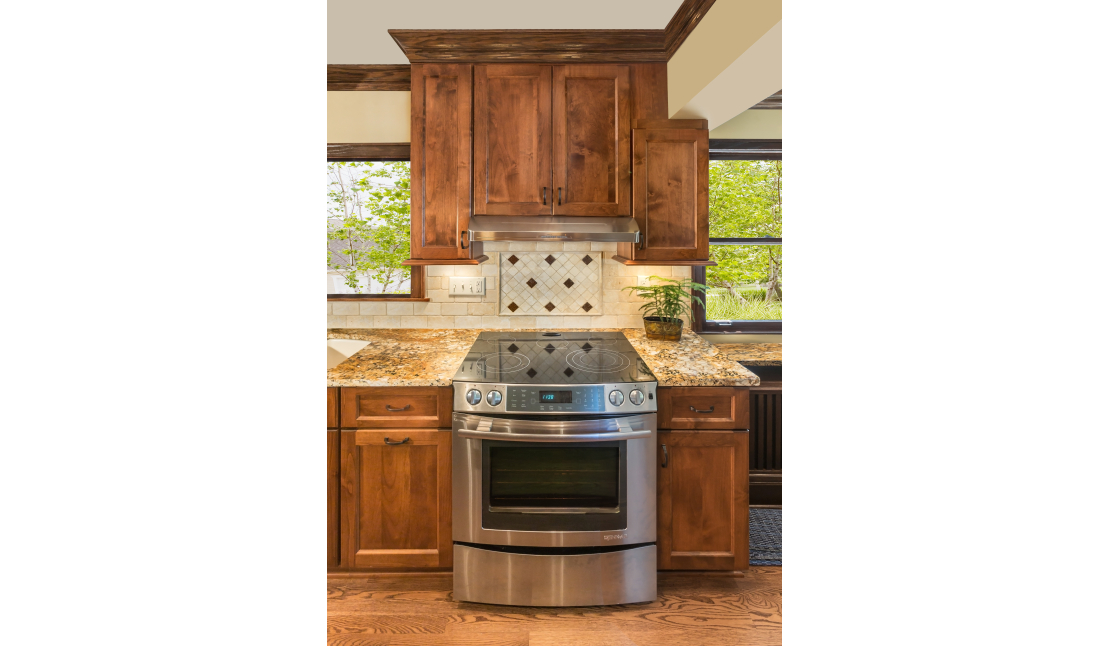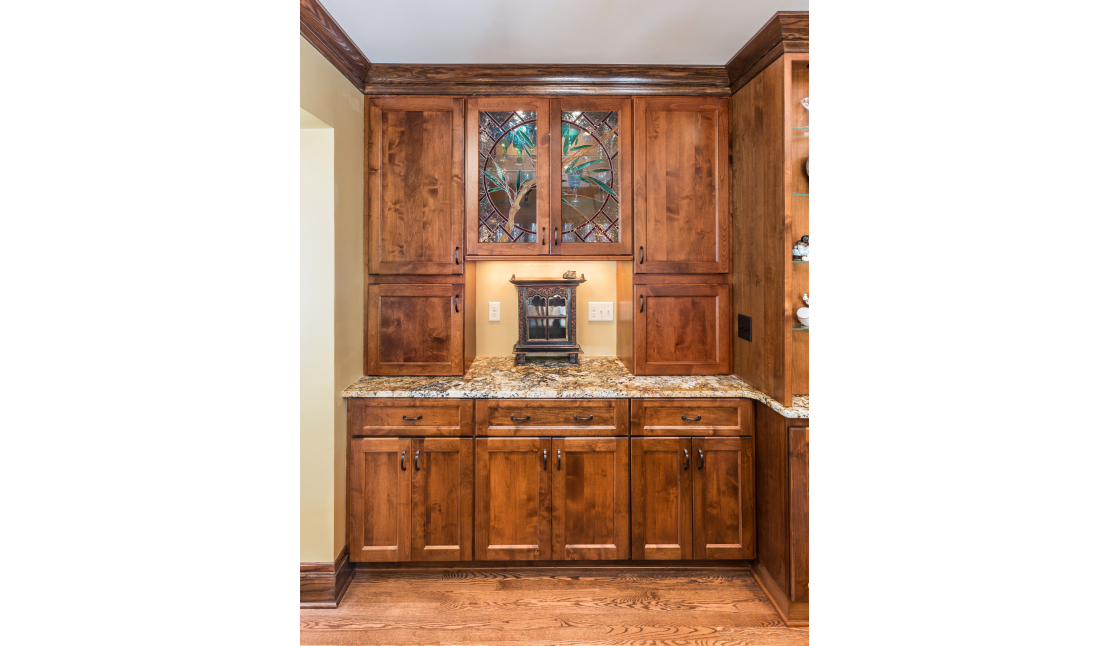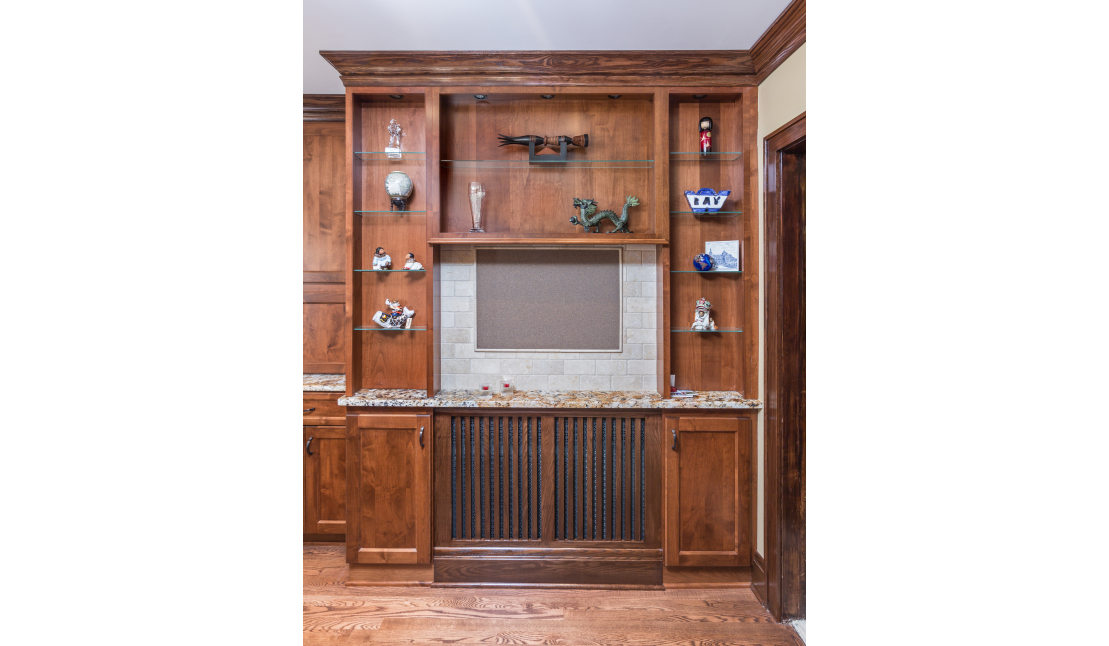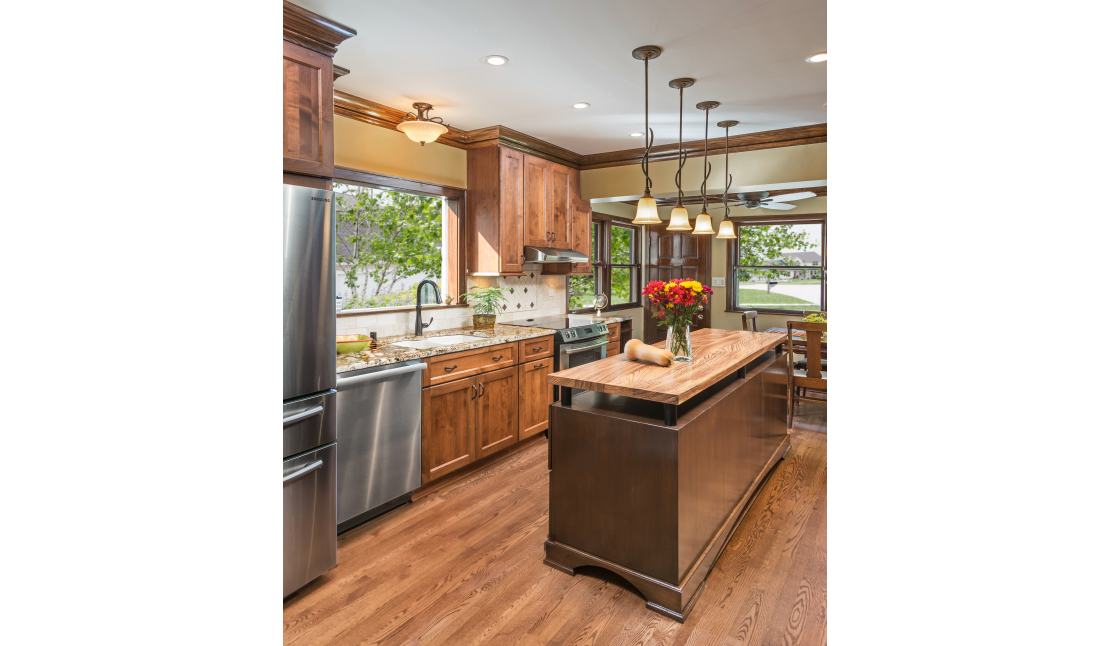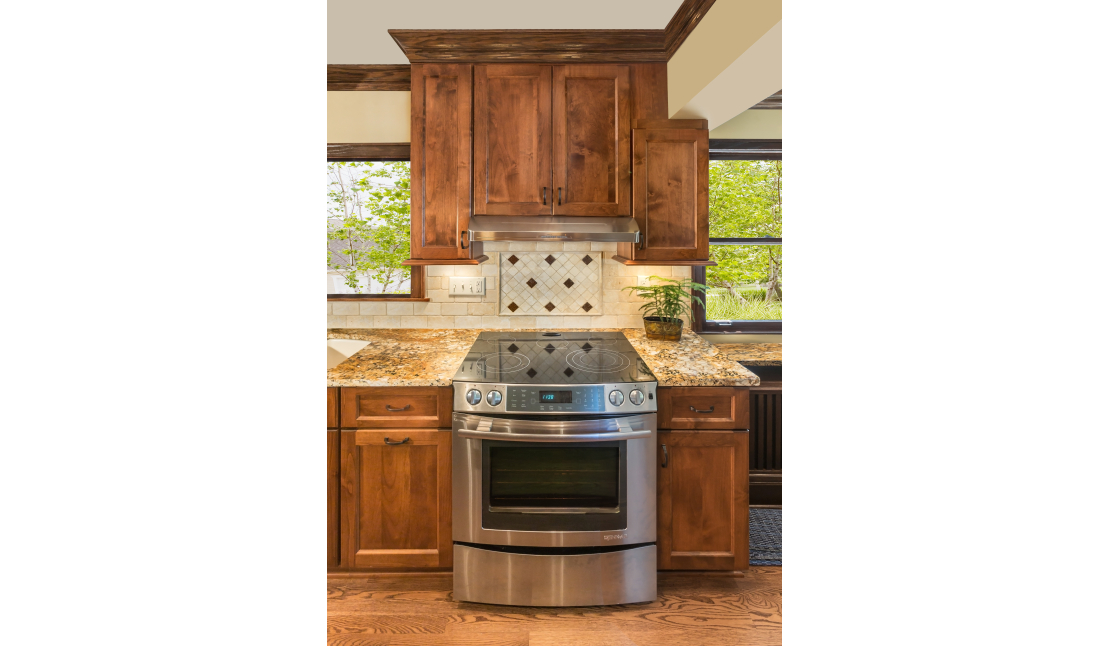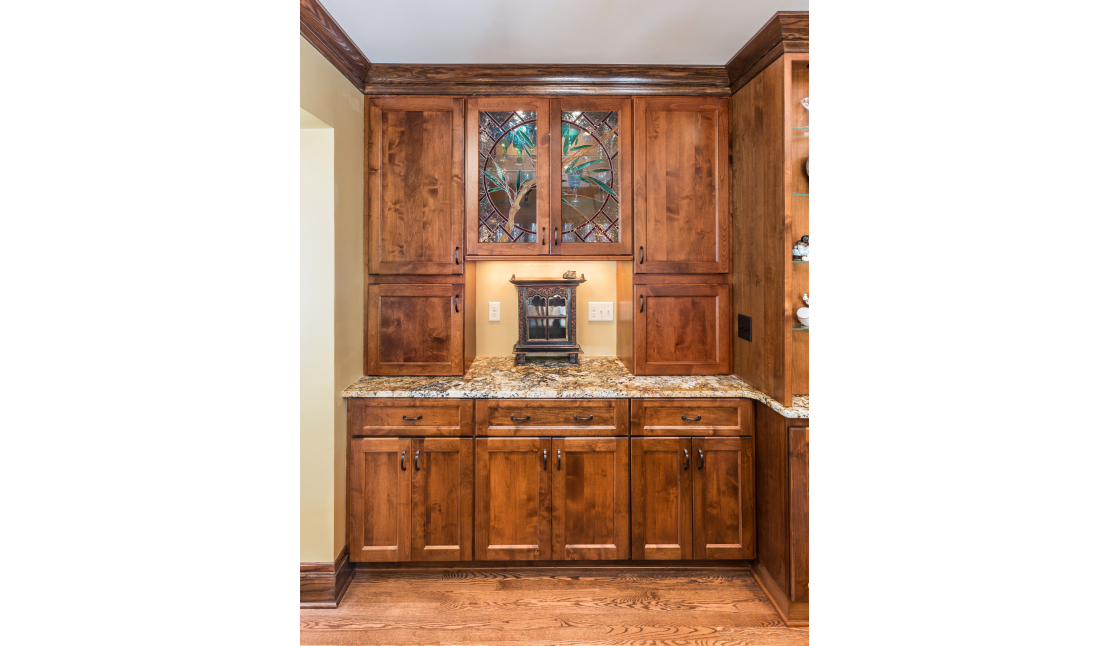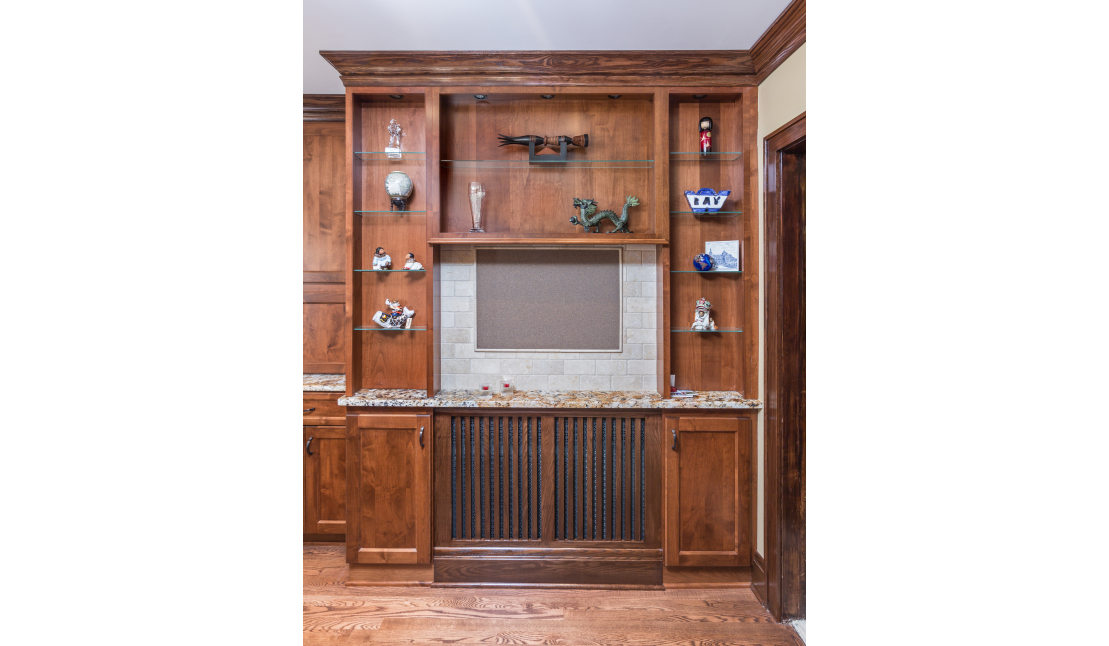 Whitefish Bay Kitchen Remodel
This kitchen remodel was designed to capture the homeowners' style since they frequently travel to the Pacific Islands. The center island features zebra wood and really takes this kitchen to the next level! Close up, the zebra wood provides great detail and movement with the grains allowing for a natural piece of art.
The old outdated kitchen lacked storage and function so this remodel was designed for cooking and entertainment. Plato Prelude custom cabinetry in a cinnamon stain with a full overlay style. Select red oak hardwood flooring was added for a soft feel. The Oxford Gold polished granite compliments the cabinetry and houses a Kohler under mount sink.
A cork memory wall was added and two custom oak radiator covers were designed to match the detail of their existing home. For the new memory wall, we chose a Seashell tumbled 3″x6″ field tile with cork board insert.
Stained glass was inserted into the cabinetry for an illuminated touch at night. The nook area is also highlighted to feature art pieces from the Pacific Islands. The result is a very comfortable and timeless kitchen that is built to last.
Let's Talk
Request a free consultation with our team today.
Request a Free Consultation
"
S.J. Janis Company is very easy to communicate with, quickly responsive, kept us updated on progress and changes, and honest and forthright about everything. The design team and architects were very pleasant to work with…
Ted P.
We are delighted with the end product. Guy, our site manager, is a real asset to the company and we are so fortunate that he was assigned to our project. His attention to detail and…
Alycia A.
We had a wonderful experience all around. We would recommend without hesitation to anyone interested in a project!
Rob L.
S.J. Janis completed our basement renovation project in our Wauwatosa home (recreation room, storage, bench, closets, and full bathroom, mechanical upgrades). Project was completed timely, cleanly, and professionally. Overall very happy with the completed project!
Rich G.
The whole process was a learning experience for us. S.J. Janis and all employees/trades were very helpful in their ability to let us know what was happening, when and how long it might take. They…
Cheryl P.
read more