Top-Rated Kitchen Remodeling in Pewaukee
Kitchens aren't just spaces where families cook their meals. They should be as inviting and welcoming as they are functional and thoughtfully designed. At S.J. Janis Company Inc., we believe in creating culinary spaces that are an extension of your stylistic and functional needs, wants, and desires. We strive to design and build kitchens that serve as the heartbeat of your home for years to come.
At S.J. Janis, we take pride in being the top choice for kitchen remodeling in Pewaukee. Let's work together to create the kitchen you've always envisioned. 
Start with a kitchen remodeling consultation by calling (414) 259-0300 today.
Explore the Benefits of Kitchen Remodeling
Remodeling your kitchen can go beyond just enhancing the aesthetics of the space; it can significantly improve your daily life and offer enduring benefits, such as:
Enhanced functionality: 

A remodeled kitchen is designed for efficient workflow, making cooking and daily tasks easier.

Increased value:

Modern, thoughtfully designed kitchens can significantly boost your home's overall value.

Energy efficiency:

 Incorporating modern appliances and lighting can lead to energy savings over time.

Improved lifestyle:

 A well-designed kitchen becomes a hub for social gatherings and creates a more enjoyable living experience.
Let us show you how a kitchen remodel can breathe new life into your living space. Contact our remodeling experts today by calling (414) 259-0300.
Our Comprehensive Kitchen Remodeling Services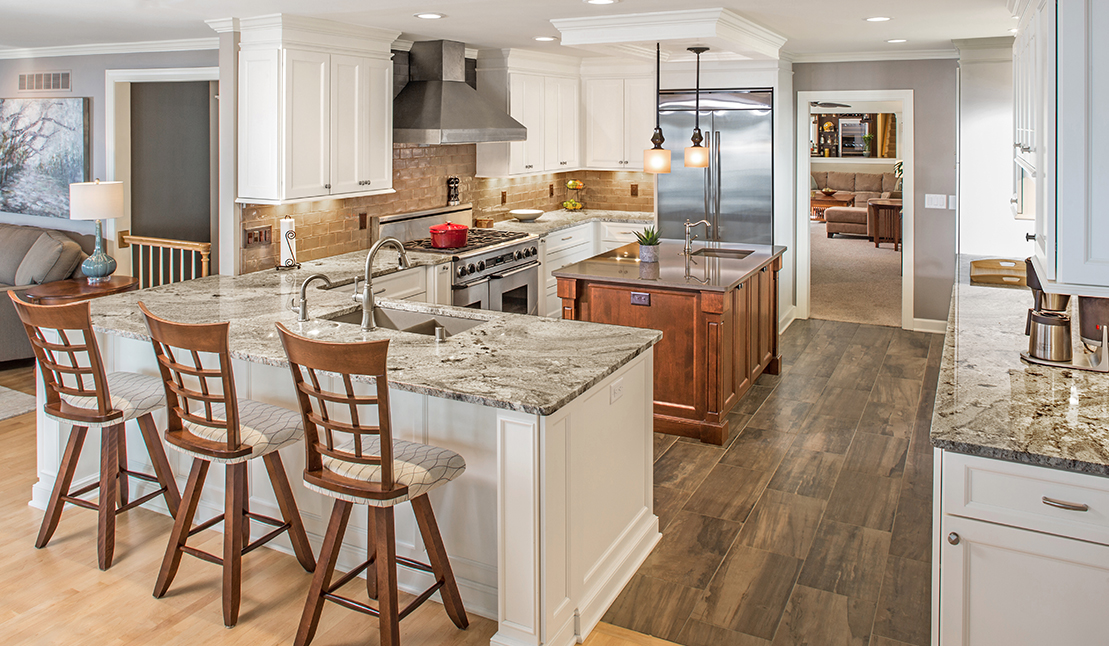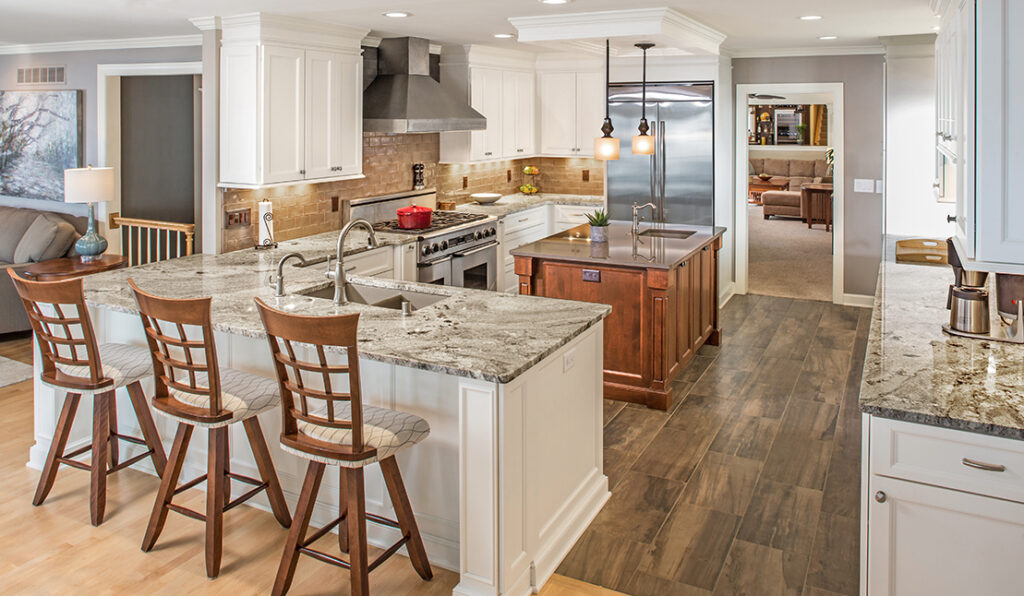 At S.J. Janis, we understand that no two kitchens are exactly alike. That's why we offer a wide range of kitchen remodeling solutions to cater to your unique aesthetic and functional needs.
Our services include:
Custom cabinetry: 

Elevate your kitchen storage and design with our custom cabinetry solutions that perfectly match your style and needs.

Countertop upgrades:

 Choose from a variety of high-quality countertops to give your kitchen a luxurious and functional makeover.

Functional layouts:

 Our experts can optimize your kitchen layout to enhance efficiency and flow, making daily tasks a breeze.

Flooring makeovers:

 From classic to contemporary, we offer flooring options that suit your taste while withstanding the demands of a busy kitchen.

Lighting and fixtures:

 Illuminate your kitchen beautifully and efficiently with our energy-efficient lighting solutions that blend style and functionality.

Appliance integration:

 We can seamlessly integrate modern appliances into your kitchen, enhancing its convenience, aesthetic appeal, and value.
Bring your culinary vision to life with help from our expert design-build team. Call (414) 259-0300 to request a kitchen remodeling consultation today.
Our Streamlined Design-Build Process
Remodeling projects can be overwhelming without the right team to guide you. At S.J. Janis, our approach to kitchen remodeling is built around a seamless, stress-free design-build process that prioritizes transparency and honest communication to ensure a flawless renovation from start to finish. This process entails:
Consultation: 

It all starts with an initial consultation where we strive to understand your vision, needs, and preferences to develop a personalized plan.

Design:

 Our experts craft a detailed design that incorporates your ideas while maximizing your budget, space, and functionality to bring your culinary dreams to life.

Selections:

 Choose from a curated selection of high-quality materials, finishes, and fixtures that suit your style and budget.

Construction:

Our skilled team will bring the design to life with careful attention to detail and quality work.

Completion:

We'll present you with your dream kitchen, ready to be enjoyed for years with your family, friends, and loved ones.
Kickstart your kitchen remodel with a consultation by calling our team at (414) 259-0300. 
Why Choose S.J. Janis?
Choosing us for your kitchen remodel means choosing excellence, creativity, and professionalism. With decades of experience and a commitment to exceeding expectations, S.J. Janis stands out as the top choice for kitchen remodeling in Pewaukee, WI.
Our team ensures a stress-free remodeling experience, transforming your ideas into reality through our unwavering dedication to your complete satisfaction.
Ready to start your kitchen remodeling journey? Call (414) 259-0300 to schedule a free consultation and let us transform your kitchen into a culinary masterpiece.